Launching or looking to expand your practice?
intakeQ Insider | April 2022
We hope that the April showers that are supposed to bring May flowers aren't causing too much disruption to your practice by delaying patient arrivals right now. Remember…warmer weather and more lush scenery lay ahead! intakeQ solution's are here whether its your first day, your first time as a private practitioner or you're looking to launch a new service!
In this month's issue, we're featuring a new self-directed practiceQ demo, a video on check-in, a questionnaire as a bi-annual review of how we're doing and what you'd like to see in upcoming enhancements.

We also have some tips for you or a colleague who may be ready to consider launching their own practice, and some invaluable comments from practiceQ™ user who has…Jean Koncos, LMT, head of the expanding At Vancouver Massage in Vancouver, WA. Jean shares her success story in a recent interview as to how practiceQ has saved her a lot of time and money, for instance, cutting the time to file a claim down from half an hour to just 3 seconds. We're so pleased that she credits the intakeQ™ team and solutions for an important part of her success.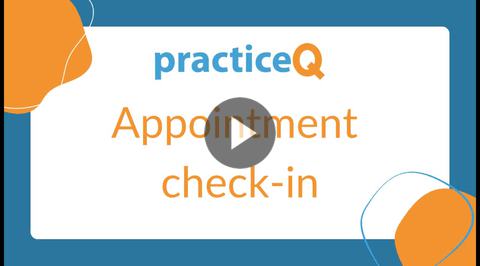 Feature Spotlight: Appointment check-in
We recently released a highly anticipated feature: appointment check-in! We've seen many practices implement check-in with either staff or self check-in enabled with great results. It's available in all accounts and as always we're happy to help you with getting check-in setup for your needs.
Appointment check-in is a fully customizable feature allowing check-in via appointment reminder, physical QR code or manually by staff on the bookings calendar. We've also added a the check-in status as a filter option in the appointments list so you can see at a glance who is ready to be seen and who might be a little tardy.
You can see a full walkthrough in the video above or check it out within our support article here. 
Ready to launch your own practice? 12 steps to helping you prepare
Running your own practice your way may have been a dream since you were a kid. All through  your medical education it stayed the same. Now you're ready. Whether you started out as a junior member of a large practice's clinical team or your diploma is freshly framed at home, there's a lot to consider…and a lot to do.

In this blog, we cover 12 major areas that will help you prepare for that big opening day! We hope it helps you or a colleague in getting started. (PS…Some of these can also come in handy if you're adding new services or locations!)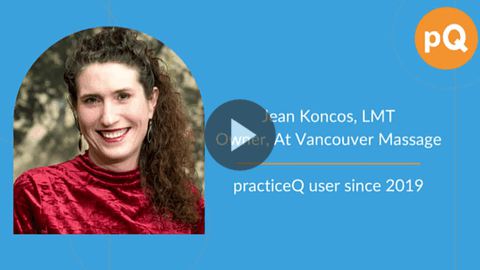 How practiceQ moves growing massage practice to the next level
For most practices, dealing with billing, payments and insurance companies is a time-consuming and often frustrating process. But not when you use practiceQ™, reports Jean Koncos, LMT, At Vancouver Massage in Vancouver, WA.
In this short video, Jean relates how practiceQ has slashed the time it formerly took to file a claim from 30 minutes to a mere 3 seconds.
"I attribute my success to having intakeQ and Google. They've enabled me to take my business to the next level. Every other solution I looked at had a piece of what I was looking for, but intakeQ was the only one that has it all.
"The ease of looking up a customer's profile and accessing all of that information is amazing. You save so much time by using this program; value your time. Think of all the money you're saving. Why every practitioner isn't using this software is beyond me."
We're adding new resources all of the time…including a new self-directed demo video available on both this page and on the practiceQ (practice management) overview page.
Want even more? See other posts on the videos page of the intakeQ.com public website — more customer successes, overviews, demos and helpful videos and tutorials that drill down into capabilities such as auto-charge payments, room and resource management, and more.